Elementor Pro is a highly versatile WordPress website builder that can handle complete websites, landing pages and ecommerce sites. One of my favorite things about Elementor is its ability to LAUNCH QUICKLY.
Let's face it, time is money, and any time you can implement FAST, your potential for profit goes way up. As you develop your side hustle into an online business, maybe you've gone the route of having an Instagram or TikTok, a Facebook page or other social media. That's always a good place to start but at some point, you realize you need a website. A property that you have control of, that is owned by you and not in business day-to-day at the whim of a third party platform.
Money is Speed: Launch Today
WordPress is a great way to launch a website for a number of reasons. The platform is not proprietary, meaning that you can move it to whatever web host you want. It's a foundational platform where your content exists in one place, and the design sits on top of that content. Or more specifically, everything on your page loads dynamically.
The WordPress foundation
That may seem inconsequential but it's actually KEY to understanding that once you build your foundation, and keep adding to it… All you need to update is your design. All of that content just keeps carrying forward so if you share links, or others share links, you're not losing any that traffic or momentum.
Templates, Tutorials and Freelance Help
About the design… Elementor Pro offers so many ways you can create an entire website in less than an afternoon. Within minutes, you can have a design live and start putting content on the page. There are so many built-for-you templates, easy-to-follow Youtube tutorials, and no shortage of freelancers you can hire to get the job done. Elementor is a platform that's ubiquitous, meaning everyone & their brother who is a developer has experience with this page builder.
The Good and Bad about Elementor
The following Elementor review covers the pros and cons of Elementor. This opinion is based on my honest experience with the plugin in a real-world production environment. Considering everything Elementor Pro offers, it may very well be the best page builder on the market today for the vast majority of web designers and developers, do-it-yourself business owners, entrepreneurs, digital marketers and others.
Third party plugins
Elementor interface works seamlessly with nearly all third-party WordPress plugins and themes; it is stable and proven to work in a nearly infinite number of environments and plugin-theme building combinations. Rarely does it glitch or cause an error; in my experience, I have never found a problem with Elementor Pro in any environment I used it in.
Ecommerce Options: Numerous, including WooCommerce
Elementor Pro also works with WooCommerce (one of the leading e-commerce plugins for WordPress) providing you with customization to your online store — not just for the entire store design but at the granular level, down to the template for a single product. No matter the type of WordPress website you're designing or creating, Elementor Pro would be able to help you to customize it.
Here is a quick overview of the best features and main advantages of the plugin before we go deeper into this product.
In addition, you can create your own designs using Elementor's built-in user interface. This means you can use Elementor with a very lightweight, minimalist WordPress theme and allow Elementor Pro to take over the heavy lifting of building out the design concept. This will give you a maximum ability to create a highly responsive website with a mobile responsive design and that works well in any viewport and on any mobile device or screen size.
Why Upgrade to Pro?
You might wonder, Why Go Pro? Elementor Pro has over 60 powerful widgets, advanced WordPress theme builder capabilities and allows you to create pro templates to define any page template on your WordPress site.
Let's say you want to create a Home page or Contact page… an About page or an Inside default page… There's a page template for that. Not only that, but you can use Elementor's predefined blocks to create your own template very easily, then deploy that template throughout your website as needed.
The actual elements or widgets available with Elementor Pro makes it easy to deploy and look great but provide a vast array of versatility — premium media widgets, social media, menus, single post, marketing, custom popups builder and more.
The Icon Library provides access to more than 1,500 free Font Awesome 5 icons and introduces the ability to upload and manage your own custom SVG icons. There is also support for integration with Font Awesome 5 Pro, access to 5,000+ icon sets plus IcoMoon & Fontello icon sets.
The top five features of Elementor Pro include
WYSIWYG (What you see is what you get)
Elementor Widgets
shortcodes
live custom CSS
and advance typography
Widget Library and Shortcodes Speed Workflow
Just like other theme building plugins that use WordPress, Elementor Pro lets you drag-and-drop to design your website. However, what really makes this different from Elementor free is the fact that you can add new widgets and shortcodes.
This is also one of the few page builders on the market whose widget library has been built by web designers, making it easy for your WordPress site to look like it was designed by a professional web designer! Elementor Pro theme builder gives your brand a more professional and desirable aesthetic, the look and feel is superior to what most can do on their own.
Widget Library
The Elementor Pro Widget Library includes: Pricing Table, Tabs, Slider, Accordion, Call to Action, Login Form Widget, Pricing Boxes, Map, Social Media Follow & Share, Testimonials Slider & Columns, Team Members with Icons and Titles, Video Backgrounds that can take up the whole page or a section of it, Alert Boxes for Messages and Events. A background image, solid color or gradient can also be selected for any section as well as buttons and other individual elements.
The Elementor Pro Widgets Library also features a custom HTML widget. This is a crucial feature in any of the WordPress page builder plugins.
Custom CSS
You can add your own CSS with Elementor Pro – something that most page builders cannot say they offer. You can do this by going to Appearance > Customize and then clicking the CSS tab at the top. This option gives you a little more freedom when it comes to design because you're not limited to what 'Elementor free' provides.
If you're not a professional web designer or don't know how to code at all, then Elementor Widgets can be extremely useful. These pre-existing custom widgets include: Blog, Search, Testimonials, Social Media Follow & Share.
Shortcodes
Here is a list of the shortcodes that Elementor Pro offers: Accordion / Toggle, Alert Message Boxes , Columns, Image Frame / Feature Boxes, Login Form Widget with Captcha , Pricing Tables and Sliders , Tabs / Accordion, Team Members with Icons and Titles , Video Backgrounds that can take up the whole page or a section of it.
When you're building your website using Elementor Pro, there are quite a few options to choose from when it comes to adding media elements every time. These include: Blog Posts, Slider Shortcode (with various options), Tabs Shortcode, Accordion Shortcode, Testimonials With Carousel Slider, Team Members With Titles And Icons.
As you can see there are quite a few media options to choose from. The good thing is that these can all be edited in real-time while you're building your website so you will save time.
Using a Premium Page Builder: Is it Worth it?
Elementor Pro is easy to use and intuitive; it's possible for a new user to get going very quickly, using the intuitive drag-and-drop interface to make it a full fledged custom WordPress site builder.
The plugin contains a large library of easily editable websites (template packages with integrated custom designs across several page types).
The Pro theme builder has many other features that were previously unknown for plug-ins. This article shows you what this plugin can do. Why it should be right for you and what it is like to use. I will also outline some of the drawbacks of the plugin and why it may not be suitable for every use case imaginable.
Speed Ratings Compared to Other Theme Builders
Do you have an idea for a market and want to test it quickly?
Elementor free or Pro are both great solutions for that purpose but the Pro version vastly expands your capabilities and allows you to integrate with third party services.
Testing a Product Idea or an entire Niche Market
For example, if your intent is to test a market and develop an audience for your product or service, then you absolutely want integration with tools like Convertbox and email marketing list builders like Aweber. You can achieve this with Elementor Pro.
Custom Landing Pages and Funnels
With Elementor Pro, you can build custom landing pages very quickly and easily. You can build entire lead and sales funnels, replacing expensive subscriptions to platforms like Clickfunnels. Why spend $300/month when you can easily create it in Elementor?
Integrate with Email Automation
Integrations with all major email marketing list building platforms (Aweber, Convertkit, ActiveCampaign) is painless and straightforward every time. Many email marketers use the popup builder to grab attention from their visitor and get better conversions.
Hosting a Page Builder Wordpress Site
Actual speed tests vary on the complexity of the pages you build with Elementor as well as size of images and other factors. This is true of any page builder.
I actually cover Web Hosting and my recommendations on what you need to launch a website to test your product or build a niche audience online. You can read that here.
Images and Page Load Time
If you plan to have a lot of images on your website, I recommend hosting those from Cloudflare. The most effective action you can take with Elementor-based sites (or any WordPress installation for that matter) is to host your site on a non-crowded, high quality Linux server environment.
Evolving from a Page Building Tool to a WordPress Theme Builder
Elementor Pro began as a simple page builder plugin but has since evolved to be a drag & drop WordPress website builder plugin.
WordPress Page Builder Market Share
As of early 2021, Elementor powered 2.24% of the top 1 million websites in the world. It is available in 57 languages and ranks among the five highest-rated WordPress page builders.
There are over 5 million active installs worldwide — an astonishing number considering the 199 million total websites in the world (2021). If usage statistics are a testimony to an Elementor review, then Elementor's own user base is a collective "YES!"
You can customise your entire WordPress site, not just those posts or pages. You can create a blog post template and configure your website to automatically apply to all of your blog posts. In the Archive Template you can control how your blogs are updated.
Create Site-Wide Templates Easily
You can even create multiple pro templates and can then use Elementor Pro's condition feature to assign these page templates to specific postings such as from a specific category of a particular user.
Drag & Drop Easy
Elementor page builder is an interactive page building and HTML / CSS code editor for WordPress. It allows creating custom WordPress pages based on drag and drop visual images. Every page at its core is a mobile responsive design, therefore ideal for all devices. You can further customize the various viewports as you wish and even have separate versions of a section for each type of user experience (desktop, tablet or smartphone).
If you update to Elementor's Pro version, then Elementor gives you the same drag and drop visual editor to design. You won't need to learn a new interface by graduating to the professional version.
Grow with Your Skill Level
If you want to design more complex pages, then Elementor gives you the ability to do more than designing posts and pages. It's a tool that will grow with you as your business grows.
Mobile friendly – Look great on any screen
You'll also be given settings to control how your design appears on specific devices – and you can also adjust settings for specific devices including iOS based devices like the iPhone, Android smartphones, Apple tablet, notebooks, Chromebook and so on.
Literally in the most visually direct way possible, you can design the same section in three different output views for desktop, tablet and smartphone viewports. It works great every time.
Good for Coders too
You don't have to be a developer to use Elementor but if you have coding skills, you can really take it to the next level. Even if you don't know HTML/CSS, you can still create stylish content blocks. Importing pro templates that you already use can save time.
Comparing Elementor Pro vs. Oxygen Builder vs. Zion Builder vs. Bricks Builder
After testing and using every major drag & drop visual site builder with a drag and drop interface in the past 5 years — Divi, SeedProd, Beaver Builder, Visual Composer, Themify and others — when it comes to Digital Marketers, Online Business Owners, Entrepreneurs and Side Hustlers… Elementor Pro has the best set of features and benefits of any sitebuilder platform out there.
Those of us who have been designing WordPress sites for years can remember Visual Composer, Divi and Beaver Builder… while they were groundbreaking in their day, the modern page builders like Elementor are a huge leap forward in code bloat, performance and design options.
The only challenge it is facing is from code-based professional tools like Oxygen, Zion, Bricks — and many others every week, it seems. In fact, some companies are releasing competing builders that threaten to cannibalize their existing customer base! (Talking to you, Soflyy! That's the company behind Oxygen, and now, their upcoming builder Breakdance.)
Elementor understands Business
While many make the comparison of Elementor to the aforementioned "competition," a code-based site builder editor is a different product from a drag and drop Elementor Pro which was designed to build and launch your web business fast. As noted, Elementor Pro is not just a drag and drop page builder but gives a whole lot more.
Oxygen Builder is perhaps the most intuitive of the competing brands but it vastly different in one key aspect — it takes over the functions of the WordPress theme, negating the theme on any site where it's installed. This is a significant departure that many users won't be comfortable with. It also poses some real problems integrating on a preexisting website; for the simple fact that it will probably break your current installation, one could only consider Oxygen Builder in the context of a NEW fresh website installation.
Elementor page builder, on the other hand, functions alongside the theme.
What is the best theme to use with Elementor?
As I mentioned earlier in this Elementor review, the recommendation is to use a "lightweight" theme that introduces very little code to the process. Elementor's own Hello theme is a good option but there are outstanding themes on the market — specifically, I'm thinking of something like GeneratePress or Astra Pro.
Both GeneratePress and Astra Pro are outstanding premium WordPress themes (yes a free version is available in each case). I'll have in-depth reviews of both of these in a future post.
Elementor Pro is very useful for testing market concepts' financial viability or to create landing pages and sales funnels in the context of digital marketing or affiliate marketing.
These objectives are simply not as easy to achieve in any other builder on the market.
DIY WordPress Design Tool for Local Business and Digital Marketers
Elementor Pro is the perfect DIY solution for small business owners, entrepreneurs and digital marketers who want to create amazing web design on their own without having coding skills or HTML or CSS knowledge.
In coding a website, there are multiple ways to achieve the desired outcome. As with most things in life, there are optimum solutions and roundabout ways of completing the task.
How to make Elementor Lightweight
Elementor handles most scenarios without injecting a pile of bloat into the equation and it has improved greatly in the past year. A builder that has the capability of Elementor Pro will naturally be a little more code-heavy than minimalist pages where everything is coded from scratch. If you're not a professional coder and you're wondering, Who has time for that? then you are a perfect fit for Elementor Pro.
At the same time, Elementor is a more ambitiuos product that is designed for market penetration; it is becoming ubiquitous in the WordPress community due to its versatility. With that versatility comes some added weight.
If you are struggling to align data columns or images into specific order then Elementor will help you do just that. And much more. A final point for users wanting beautiful pages on their sites but no designer.
Complete List of Best and New Features and Benefits
For those who don't want to spend money, there is the standard version of Elementor. Unfortunately, it will be difficult or impossible to integrate your sites with third-party services if you use the non-premium version.
30-day guarantee
With the paid version of Elementor Pro, once you purchase, you'll have a full month to try it out. If it does not meet your needs or is not a good fit for any reason, simply request a refund within 30 days.
Of course, you must purchase directly from the Elementor website and be an authorized license holder to receive the 30 day guarantee.
Elementor Pro vs. Free Version
Elementor's commercial and free versions differ in many ways, so I have provided the full breakdown of the differences here.
Included in both the public version and Elementor Pro:
Drag and Drop Interface — a full featured Editor offering free templates without Code
Mobile – 100% Responsive design
Elementor's own Hello Theme — this is a minimalist WordPress theme, one of the fastest WordPress themes available today
Elementor Pro also includes:
Premium Support from the Elementor team
Pro updates
Design Widgets such as 300+ Pro Templates & Blocks, Custom Fonts & Adobe TypeKit, Motion Effects & Mouse Effects, Slides & Carousels, Custom CSS, Scrolling Effects, Animated Headlines, Flip Box, 15+ More Design Widgets
Marketing Widgets include Landing Page Builder, Canvas Template, Popup Builder, Sticky Elements, Social Buttons & Integrations, Social Proof Widgets, Call To Action Widget, Form Widget, Evergreen Countdown, Action Links, Lightbox and 15 more
Theme Builder widgets such as Theme Elements, Display Conditions, Header and Footer blocks, Sticky Header, 404 Page, Single Post, Archive Page, Role Manager and 15 more
Dynamic Content widgets — Request Parameters, Custom Field Integrations and over 20 more dynamic content widgets
Ecommerce widgets include Price Table Widget, Price List Widget, Product Archive Template, Single Product Template, Woo Products Widget, Woo Categories Widget, WooCommerce Templates & Blocks and over 20 additional Woo Commerce widgets. Elementor Pro is tightly integrated with WooCommerce.
Forms widgets include Contact Form Widget, Subscription Forms, Login Form, Action After Submit & Redirect, Confirmation Email, Email available as HTML or plain text, Custom Messages, Advanced Form Fields, Upload files (JPG, PDF and other file formats supported), Hidden Fields, Acceptance Field and Spam Filtering.
Integrations supported include email marketing platforms like ActiveCampaign, ConvertKit, Aweber, GetResponse, Mailchimp, MailerLite, Drip, Campaign Monitor and other conversion platforms HubSpot, Zapier, DonReach, Adobe TypeKit, ReCAPTCHA, Facebook SDK, Slack, Discord and Honeypot
There are no online forms or integration capabilities included in the free edition of this app. There is a large collection of page and block designs included in the free edition.
User Experience UX & UI User Interface Design
With the Elementor 3.0 update, a lot of performance improvements were added and there has been a huge complaints of users from the past. That version was a huge leap forward on an already exemplary custom designs platform.
You can also access the 'Style' and advanced menus without leaving the same area.
Earlier versions of Elementor had a less than fluid user interface but those issues have been resolved. With the latest version especially, the element editor has now become as easy on the user to manage as many beautiful pages as Elementor – the most modern theme builder has ever been.
Elementor Pro offers a user experience that is easy to learn, even for designers with little experience or business owners looking to take their local business website to the next level and entrepreneurs looking to test a market or develop a quick funnel or email capture page.
The builder's admin panel is easy to grasp. It offers a clean layout and relatively fast page load times considering the complexity it offers. Pro templates are literally a click away and organized visually to make selection easy.
Editing Content Blocks, Block Editor and Using Dynamic Content Stylesheets
Text editing and styling can be done either inline or via a sidebar. Other individual elements, including images can only be moved in the sidebar so this is perfectly understandable, because you can pre-examine your changes as you work.
Elementor vs. Gutenberg block editor
Elementor is a vast improvement over the standard WordPress Gutenberg editor… Gutenberg blocks are an improvement over the classic editor but if you have spent 15 minutes in Elementor, you will never go back to the old way. Even simple tasks in Gutenberg are cumbersome and time consuming. Again, our goal is to spend less time creating the page and more time building the business
Elementor Pro gives you much more freedom than with the standard WordPress experience without needing programming skills. For example, designing unique content blocks with interesting page layouts using a wide variety of blocks such as image galleries, videos and custom buttons is now easier than ever.
Building custom post or page based content designs is much easier now thanks to the drag and drop visual block editor.
Premade Page Templates that Speed Workflow
The library contains all types of common pages for different purposes. You can save all your pages as templates and reuse them in another pages quite easily.
Over 300 Pro Templates
There are approximately 150 page template types in the basic version of Elementor versus over 300 pro templates in the Elementor Pro edition of this page builder plugin.
Kit Library
Elementor Kits are collections of web layouts that follow the same style aesthetic which allows you to create a complete, consistent website.
You will find an interesting selection of about pages, Contact pages, Home pages, Landing pages, Portfolio (gallery) pages, Team pages and many more.
Template Kits to Custom HTML – Custom Output For Every Experience Level
Some of the premade Elementor template kits offer more page templates than others but the Elementor kits cover a wide variety of niches or verticals — every industry seems well represented by this mature builder.
While you're not required to be a developer in order to use Elementor, if you have coding skills, you can push your design capabilities to the limit with this amazing tool.
Redesign your old pages
Let's say you have a website with lots of existing pages built manually in the WP editor. You do not want to rebuild them in Elementor because they are working, but you would like to improve their appearance…
You can use the Custom HTML module in Elementor to add your custom CSS or Javascript code. The Module Settings give you access to some useful options.
Post types for Real Estate Listings, Products and More
You can select the Post Type where your code will be injected (all posts or just one). You can also choose if you want to inject it into the post content blocks, drag and drop visual block editor only or both.
Common examples of a custom post type in WordPress are real estate listings, movie review listings, and WooCommerce product listings… but really the ability of Elementor Pro to integrate custom post type offers an entirely new world of complexity in web function. More important, it allows complex web functions to be implemented easily.
Testimonials, Reviews, Events and Portfolio categories are even more examples of custom post types.
A custom post type in WordPress is simply a type of content grouped in a systematic way. Even though the word "post" is within the term, custom post types can exist for both pages and posts without limitation.
There are a few professional level WordPress plugins that aid in the deployment of custom post type but the one we like to use is Advanced Custom Fields (ACF). It's very well coded, support is outstanding and it works seamlessly with Elementor Pro!
Unified Interface
As of version 3.0 of Elementor Pro, the theme builder has a unified interface only for template development which will automatically show how your template sections are placed together in theme building. This is a page structure viewer that makes it easy to select a design element to customize.
Visual Preview
You are also able to see a visual preview of each template right in the unified interface which is really convenient to quickly make sure you edit the right part of the theme.
Elementor 3.0 (launched around August 25, 2020) brought forward many of the improvements that were previously available to the beta community.
Pricing Plans and Options
The main plugin is available through a official WordPress repository. There are no hidden costs or signups or registrations required. There are no gotchas or secret upsells. It's a reputable product with a trustworthy and safe transaction process.
There is also a Pro version available. This is an annual subscription and you get 24/7 support plus updates as long as you maintain your subscription. It features some interesting stuff that power users will enjoy.
Beware of Unlicensed Bootleg Versions
Beware of vendors offering "lifetime Elementor" — these are unlicensed bootleg copies with NO support!
Not to mention, it is illegal to buy pirated copies of software and it's simply disrespectful of the product creators who invested years to perfect the product. It's a losing proposition for the customer as well as the vendor.
Many Pricing Options
ElementorPro is a paid-for plugin for Elementor. Starting at $49 a year, it is available in a variety of licenses. Aside from the number of sites that use the plugin, there are also some differences between the license options.
There are several pricing options with Elementor Pro licensing. There is an option for everyone, including the ability to contact the company if high level deployment scenarios are needed. Visit the company website to learn more if you need to license for more tan 1,000 websites.
In addition, you can download a trial version of elementor to check if you like the user interface before making a purchase. Visit the Elementor website for more information.
Is the Pro Version Worth It?
Elementor Pro is a powerful tool to design WordPress websites or create different content. It should be clear by now that it is an exceptional value no matter what license one chooses.
Cancel overlap subscriptions
It is possible with everything that is bundled in the Elementor Pro builder to remove other subscriptions you may be paying for with funnel builders, landing page creators, premium contact form plugins and so on.
Elementor licensing options
As of this writing, there are five licensing levels: Essential, Advanced, Expert, Studio and Agency:
A single website "Essential" license is $49; three site Advanced license is $99; 25 sites Expert license $199; 100 sites Studio license$499 and 1000 sites Agency license is $999 (that's right, only $1 per website!).
Naturally, with the extended licenses comes the ability to deploy to client websites. At the Expert, Studio and Agency levels, a license holder also receives an Elementor Experts Network Profile that's provides exposure to business owners and online marketers looking for freelancers.
While premium support is available from the Elementor team to the three lower tier plans, the Studio and Agency plans also offer Live Chat support plus additional members added to the plan. Up to 10 members of your team may be added.
All Elementor Pro features from only $49 include theme Builder and Popup Builder. The Elementor team released other features such as Theme Builder with no increased price over the years. If you'd just like to use the standard Elementor version, that's a temporary solution for most people since eventually they realize the value the Pro version provides.
Hobbyist vs. Business Builder
Elementor (the non-paid version) is sure to satisfy the needs of the casual site builder…
Who is Elementor Pro NOT for?
The big question that is asked repeatedly on Elementor Facebook groups, digital marketing forums and chat rooms is, "is it worth it?" to upgrade… If you have to ask, especially by now after you have seen all the benefits! …then no, it probably is not a good fit for you.
Snark alert:
Just keep overthinking in your comfort zone.
C'mon, are you serious?
The extreme value of what is provided in the Pro version versus the unpaid version is obvious to anyone who builds sites seriously as part of their income (not just web designers but anyone with a business online or interested in making money online). Everyone from affiliate marketers to web designers to business owners and product creators with memberships — all could benefit from Elementor Pro.
But if you plan to take your business as far as possible, then you should upgrade to Pro. If you have further queries consider a visit to the company website.
Elementor: Where to Buy
As mentioned, in order to qualify for the license protections, you must take care to buy Elementor Pro directly from Elementor.com. This is a key point as there are unscrupulous vendors online who sell bootleg copies of the system that are buggy, not updated and fraught with malware and other security risks.
All major credit cards (Mastercard, Visa, Discover, American Express, Diners Club, Union Pay, JCB) are accepted for payment, as well as PayPal. Transactions are handled via secure 256-bit SSL encryption.
There is a 100% money back guarantee for 30 days for the full purchase price, no questions asked.
The company has a long time policy of "grandfathering" its paying members at their current price point; if prices increase and they surely will, your subscription remains at the current price point.
Pro Templates and Blocks for Limitless Design Potential
Elementor Pro contains approximately 200 individual page templates, more than 50,000 content blocks and 16 website kits. All of the templates are highly polished and editable.
The user-friendly user interface is the main features of the plugin. It is ideal for those who want to save time in their Web site building as well as those with limited design skill.
They provide useful additions. Rather than being complete templates these can be used to add some popular sections to your page.
Other options include About, Contacts, Clients and Testimonials blocks. I provide a comparison for your review.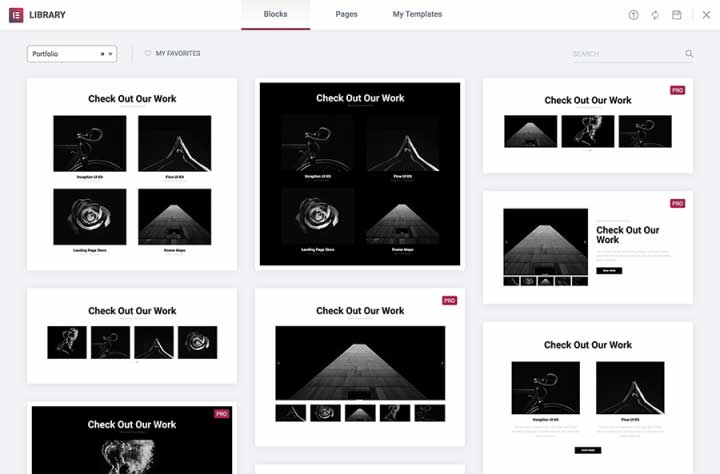 Page Layout Options & Columns
Elementor Pro capabilities have evolved to the point where it's difficult to see where Elementor falls short in its design capabilities.
In the past, some reviewers fixated on the issue of custom mobile break points as a reason not to use Elementor and go with a code-based editor like Oxygen Builder.
Elementor, to their credit, have largely resolved that issue. As of the time of this writing, they offer six custom mobile break points. This is sufficient for the fast majority 99.9% of use cases. If someone absolutely must have 100% control over breakpoints, then a code-based editor might be the way to go.
Header / Footer Options included
Reviews that mention the need for a separate header/footer plugin are outdated. Elementor Pro long since updated the ability to create custom headers and footers within its own interface and offers header footer templates in a huge variety of choices. Implementing a new header footer design is as easy as clicking the Insert button!
My impression of the layout settings is the perfect size that it should work. Just right click the column icon for your element and you see the possibility of using another column.
All major browsers supported
Safari users once had some difficulty with the Elementor editor and found it easier to work in Google Chrome or Firefox… but again, that has been resolved from my experience.
If you're trying to make a tricky selection, like embedding inside columns or moving sections from the bottom of the page to the top, it's sometimes faster to select the Structure view. It's basically an outline of all your content blocks and is a shortcut to moving things around quickly.
When a page structure is divided into columns you can quickly stack the columns into larger layouts.
The sidebar has an 'Inner Section' that defaults to 2 rows if you prefer to do it that way. And there's a button for additional rows in a section.
The borders are displayed when you hover the element around it.
Global Widgets
In Elementor you can build custom 'wides' of the content of the elements. These are different from page templates. All global widgets have no options if you're allowed to change it for editing or making a styling change.
If you would like changes to the widget, you could do this on any page or on the same page. They can be used practically anywhere within your WordPress site. And if they don't need a given widget then they are as easy as removing them from your library.
Choose 'Template' or select an icon whose widgets you want to put in your trashcan.
Elements and Widgets
Elementor has no built-in Table elements so installation needs to be done without a plugin. The Ultimate Addons To Elementor plugin adds a table widget and other features. It's not a bad selection but an improved interface from earlier versions and page builders.
Elementor is an open source site creator enabling third party developers to create addons for websites built using Elementor. The free version of the plugin doesn't offer many options with common elements such as table data.
Elementor has the ability to import shortcode from plugins with extended features such as pricing tables and contact forms; it works well alongside the vast majority of well coded plugins. If a plugin development team follows industry standard practices, then it is almost always compatible with Elementor.
While you could hand code a table, that approach is very cumbersome when you could easily install an outstanding plugin like TablePress to get the job done quickly. TablePress is a lightweight plugin with a well established history. Five star rating, thousands of reviews… Highly recommended option for creating pricing tables in Elementor.
The Unique Side Panel within the Element Interface
Pressing the small button beside the side panel to remove completely will allow you to have visual preview of the page. Contracting the panel gives you more work space and doesn't reduce usability. Perhaps they could take this further by default having the icon for element in a list that would shrink even more.
Of course you can't edit a page in visual preview mode, but the speed and ease of being able to preview like this was huge for me as it does work well in many ways, especially for drag and drop visual page builders.
Easy Installation from the Dashboard
From within the Plugins dashboard, click the Add New button and then install Elementor (free version). For the pro version to work in the free world of the plugin, you must first install the free version.
If you try to install Elementor Pro first, it will prompt you to install the free version before proceeding. After installing both versions, licensing is easy; there is no need to enter a license key like with other plugins but a more elegant system — simply activate from the panel and Elementor will visit its parent website and find your credentials automatically.
Of course, if you like doing things the hard way, you can log into FTP, cPanel or DirectAdmin and upload the plugin to your Files folder, extract from the ZIP file and then return to the website to activate it.
There are tutorials online for learning how to access your cPanel; it's a good skill to learn for the budding web developer to know how to create MySQL database and user fields, navigate around phpMyAdmin and install raw copies of WordPress onto the server… but in the case of using Elementor Pro, it's completely unnecessary.
How Does the Interface Work?
Once we open the Elementor Editor, we see a visual preview of my design on the right and a sidebar on the left. To install a new content item, you can drag an element from the sidebar on to the real preview. You can additionally use drag-and-drop to move items within your design.
To arrange widgets you will get two layout blocks: you will place the widgets in sections and in columns. Clicking anywhere opens widgets, columns or sections in Sidebar. Here you control layout, spacing and content among other things. The setting is divided into three tabs. The full Elementor interface provides a unified experience that is easy to navigate.
100% Mobile Responsive Design
Elementor provides an incredibly large selection of data elements and modules in an interface. You can arrange these elements in the previously mentioned ways with the support for drag and drop.
The plugin gives you access control over what your site will display on a tablet or mobile system.
Within the Elementor panel, you will also have a complete historical update so you can reset the page back to a previous version — useful to test different blocks while you make a decision or to simply correct a mistake without breaking anything.
Granular Design Control if you need it
Also you can toggle choices to change every conceivable design element — backgrounds, typography (fonts), colors, sizing, margins and padding. Elementor Pro supports absolute units of PX (pixels) as well as relative units of EM, REM, % (percentage), VW (viewport width) and VH (viewport height).
For this reason, it is possible to create sites that are not only completely mobile responsive and look great on any size screen… but also, can offer various versions of the same section in the different viewports.
This is especially useful if a section on the desktop version has custom formatting or columns, left- or right-aligned text, etc., that would not present well on tablet or smartphone screens.
In those cases, you can actually create a totally separate view for those mobile users so every visitor to your site receive the best UI / UX experience possible. UI is user interface, UX is user experience.
Elementor Pro isn't buggy like some site builders so you won't have any worries about what contact form plugin to use. While there is a built-in forms editor provided with WP Forms, I have personally found that Gravity Forms offers superior email delivery and reliable anti-spam protection.
Bottom Line: Buy it
In conclusion, Elementor Pro is an amazing tool to build professional looking websites very quickly and easily.
This is a key step forward in web design for the casual user, business owner seeking to do it yourself, entrepreneur testing the market with a concept (similar to the market disrupters like Carrd yet having hundreds of additional integrations to email marketing and automated messaging platforms) or digital marketers who need sites and landing pages (and use the popup builder) for affiliate marketing, memberships, CPA offers and more.
Elementor is an extremely useful and versatile builder and well worth the cost of the license based on my personal experience developing dozens of websites on the platform. Grab it today, you won't regret it.